I got rid of everything that didn't fit, ordered two pairs of jeans on sale, and here we are. This is everything except for a red flannel shirt from Old Navy.
I've been thinking about ordering more clothes but spring is just around the corner (I know it!!), so I'm just making due with what I have: 4 sweaters, 2 pairs of skinny jeans, a couple t-shirts and blouses, a comfy blue hoodie, and two skirts in case I have a meeting.
This is the paragraph where I write about "the place in my career" wherein I "invest in timeless pieces" and "day to night" and "a chic trenchcoat" and "French girl style" and "look for high-quality fabric" and stuff.
Oh man, I just got like, so many google hits with that bit.
That said, I have compiled a list of basics I need to round out my somewhat limited wardrobe. I'll buy one of these items weekly until I've acquired a proper unifrom for any occassion. OR, I will buy a $150 luxury sweatshirt and hope I never get invited to a cocktail party.
This list is in order of priority, from black pants (needed yesterday) to brown boots (I can manage without them for the rest of the season).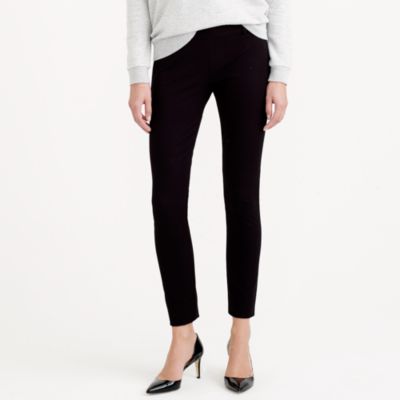 Black Cropped Trousers. They have to be above the ankle so they don' look dorky. J Crew is perfect for wear-once-a-week basics that hold up for a couple of years.
A cardigan because sometimes pullover sweaters are too much of a commitment. Land's End sells the best sweaters, that's just basic mom knowledge.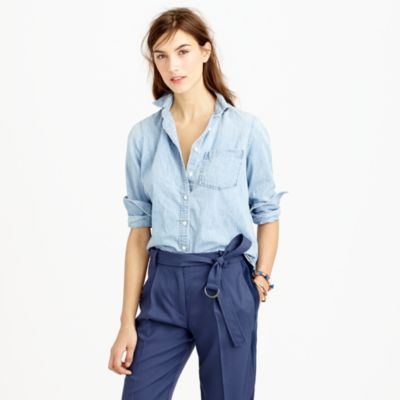 A chambray shirt. I think J Crew makes the seminal denim shirt, but I like the ones at Loft too.
Dresses for work. I'll start with this number from ASOS - I also need a knit LBD and a couple sundresses in case it's ever warm again.
White silk button downs are more flattering than their poplin counterparts. While nice to have, this is lower on the list because white shirts (especially those that require dry cleaning) stress me out. It's crazy to me though that I'm functioning without black pants or a standard white shirt right now.
Brown Knee-High Boots would be welcome, and I especially love this pair as they don't look as suburban as the more ubiquitous Melissa Button boots. I know I rated these last on my "need" list but they're like 50% off right now. I'm reaching for credit card.
Hope